App for Instagram – Instagram stories offer various stickers and GIF formats to choose from. However Instagram stories only have five font options.
With such limited options, you followers will get bored easily reading or looking at your stories when you posts so many times in a day.
Luckily, there are a number of remarkable application that help make your stories more thought-provoking.
Not only do the apps help edit font and photos, they are also useful to edit videos. Most of the apps can be used easily. One of the recommended apps is Spark Post released by Adobe.
Before it was released for Android, the app had been previously released for iOS and web.
Spark Post is not merely a photo editing app but it is considered as an important tool that help build personal branding.
Adobe Spark App for Instagram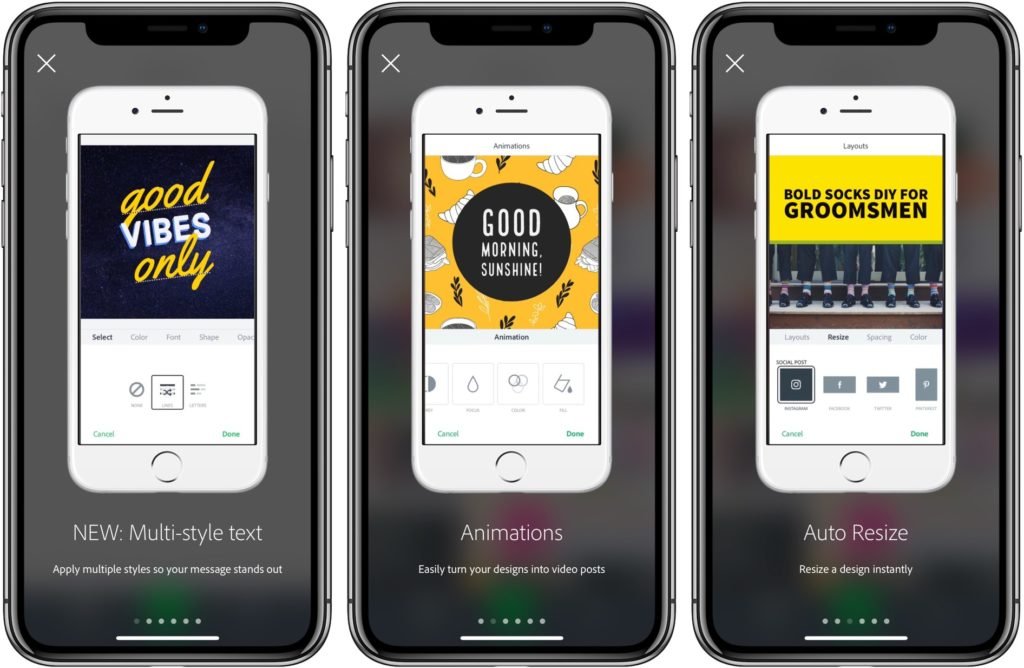 The Best App to Create Personal Branding
It is no wonder that the app is commonly used by young entrepreneur to market their product.
It's really the best application to download that is ideal for active social media users who are fond of creating professional-look content
And images without the need of mastering advanced skills of graphic design.
In Spark Post, you can find numerous options of templates and images classified in many different categories such as culinary, travel, health, business, music, and many more.
All of the templates are designed professionally. The users can also edit the font, resize the image ratio, give effect and color, and even change the layout to suit their design needs.
How to Use Spark Post as the best app for Instagram
As mentioned earlier, Adobe Spark Post is quite easy to use. First of all, you should prepare photos to edit. Then, you can add text, add other pictures, choose the palette, and set the layout.
Don't forget to choose the correct ratio depending on where you want to upload the pic. Different media require different ratio aspect.
Adobe Spark Post is considered as the best app for Instagram because of its complete features especially due to its various professional templates.
You can find templates for making collage photos, posters, flyers, invitation, presentation, and even YouTube Thumbnail.
Every photos or pictures that you make can be directly posted in blogs and social media including Instagram. Of course this app will help improve your Instagram account visually.
When you want to post your work to media social, there is no need to adjust its size. What you need to do is to choose from the available templates
Although you don't have any experience in design, you're still able to work with the layout, font type, font size, and color. Even with premium features, you can add logo as well.
With all of the advanced features it has, Adobe Spark Post seems to be a combination of Adobe Photoshop & Illustrator in a mobile version.
This app really can accommodate the visual design needs in a mobile device.
Read More:
If you're interested in using Spark Post you can search the app in Google Play or Apple Store & download it.
Once you use it, you will realize how effortless and time-saving it is to create a high-quality end result.
Download Adobe Spark here.