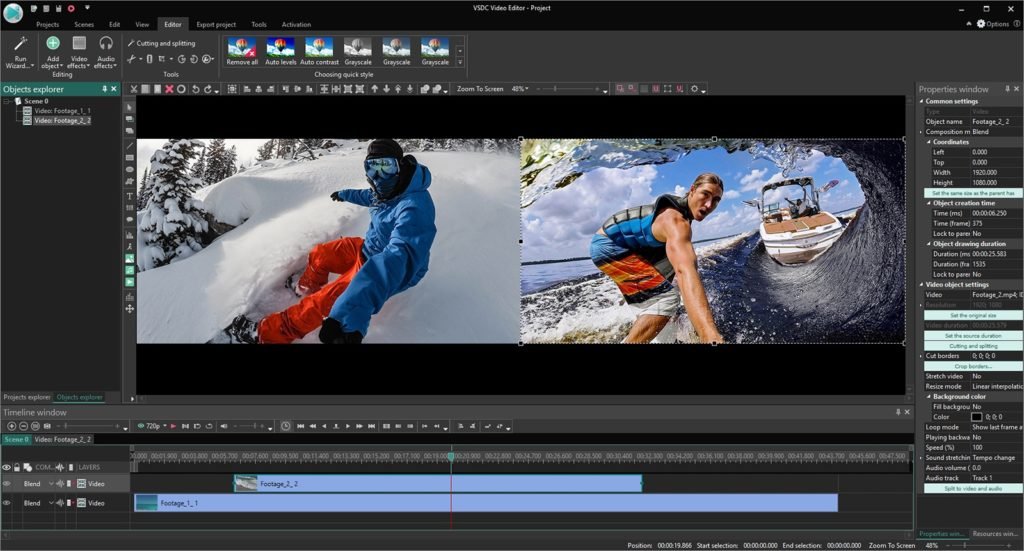 The Easy Way to Edit Video Using VSDC – Free Video Editor is software for editing video that can be used easily yet it gives a high-end result. Prominent features of this software include visual panel, screen selection, and timeline panel.
By using VSDC, you are able to edit any videos utilizing complete features including adding audio and transition effect. On the main page, the videos that have been edited are previewed in real time, so you can the editing result directly before saving the videos.
The software also allows you to edit files from camcorder and other video recording devices. The output can be saved as various different formats such as AVI, MKV, FLV, and many more. Even it supports mobile formats too.
The Easy Way to Edit Video Using VSDC
How to Use Software for Editing Photo
It is not difficult to use this free software download. Overall, the way to use this software is almost similar to suing other video editing software. First of all, you need to open VSDC free Video Editor from your computer.
If you haven't had the program, of course you are required to download and install it first. After you open the program, click New Project to start editing. Then, select or import videos or images you want. You are ready to edit the videos based on your needs.
After finish editing, click Save to save the edited videos. It is simple, right? Due to its easy use, this software is recommended for beginners and anyone who are interested in video editing.
There are a number of reasons for choosing VSDC over other video editing software. Users on a budget prefer this software not only because it is cheap but also due to its features.
It has large number of video effects divided into several categories to ease the users to navigate. There are object filters, color correction, transition effects, and many more.
In addition to the existing effects, users can create their own custom effects and filters. Users can also add audio effects to their video. More interestingly the sounds can be edited too. The editing involves various sound effects such as equalizer, volume correction, and sound normalization.
Useful Features of Software for Editing Photo
Another useful feature of VSDC is the ability to hide, highlight, or blue particular parts in a video. This feature is called Masking. A common use of Masking is to blur or hide the identity of a person in the video.
VSDC also supports charts and 3D diagrams. Therefore, using this software, you are able to create Pyramid 3D, stacked Bar, Scatter Line, and other types of chart and diagrams. More interestingly, the names, lines, and legends of the diagrams can be easily customized.
The videos that have been created can be easily exported to social networks. That is what makes VSDC is preferred by social media users. With this feature, any videos can be directly shared only effortlessly.
There is no need to going through manual complicated process of video publishing. As we know, people are always reluctant to go through tedious process of exporting videos such as checking the format and size requirements of the file.
Read More: